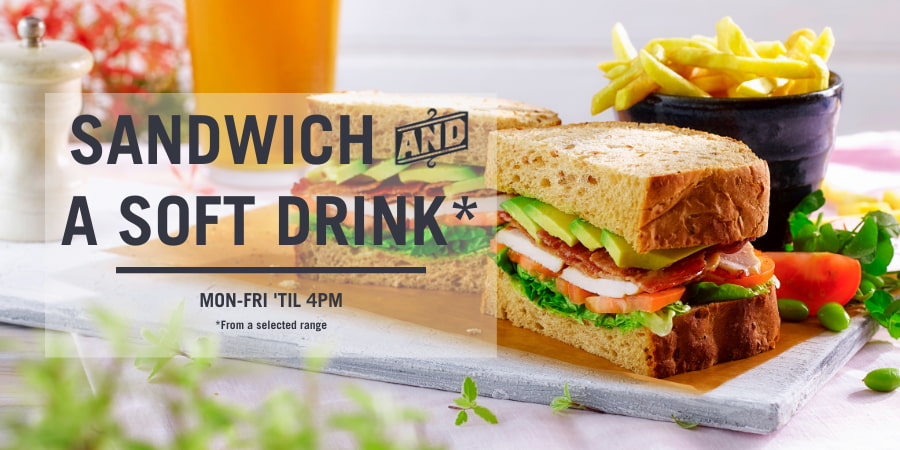 Enjoy one of our delicious sandwiches and a soft drink. Available Monday to Friday until 4pm! Please check your local pub for pricing and full menu.
Our sandwiches are served on white or malted bloomer bread, with your choice of chips or fries, a fresh tomato, red onion, soya beans and pea shoot salad with a lemon olive oil dressing. Choose from the below options:
Chicken, Bacon & Avocado Sandwich
Tomato, Mozzarella & Avocado Sandwich (V)
Wiltshire Cured Ham & Tomato Sandwich
Fish Finger Sandwich*
Buttermilk Chicken Sandwich*
Ham & Cheddar Toastie*
Stilton & Bacon Sandwich*
Cheddar & Tomato Sandwich (V)*
Coronation Chicken Sandwich*
*available at selected pubs only
Choose one of the following soft drinks:
Regular glass of Coca-Cola, Diet Coke, Coca-Cola Zero Sugar or Schweppes lemonade, Hartridge's mixed fruit Juices (choose from orange & passion fruit, apple & mango or apple & raspberry, availability may vary) or a bottle of Strathmore water.
Or why not upgrade your drink? For just £1.50 choose from the following drinks:
175ml House Wine or a Pint of Standard Lager, Cider or London Pride.
For an extra £2.50 choose from the following drinks:
Pint of Meantime, Estrella, Peroni, Camden Hells or Aspall