Similar to Boules, Pétanque is a classically simple game of strategy and chance, that is thought to have originated in 1907. Originally created in the South of France in the city of La Ciotat, its shorter pitch and stationary delivery quickly made it the most popular version of the game.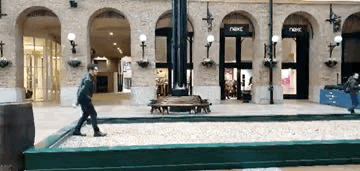 Located in Hay's Galleria, perfectly situated on the Thames River, it's the proud owner of London's only outdoor covered Pétanque Pitch, exclusive to The Alexander Hay. It is a perfect team activity for a bit of friendly competition!
After you've worked up an appetite, make sure to join us inside for a bite to eat. With lots of great dishes you're sure to find something that takes your fancy, make sure to check out our brilliant food menus! Sound like your cup of tea? Give us a call to book.
This brilliant Pétanque Pitch is free to use, all we ask for is a £10 deposit per person which can then be used towards a bar tab or to pre-order drinks and nibbles. This great space is available to use every day of the week and can be booked out for 90 minute sessions at a time. We are available for bookings of 4 to 20 people, for bigger bookings please talk to the venue directly.
So why not join us for a game of Pétanque, in the beautiful surroundings of the Hays Galleria, with lots of great tourist spots close by! Give us a call to book, we are happy to help!